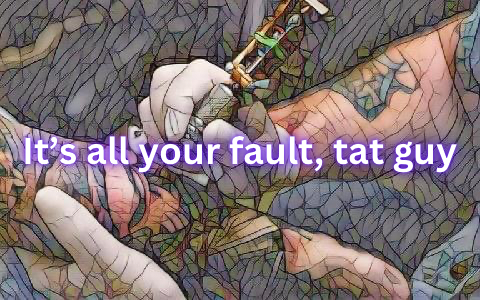 People have a tendency to shift blame. I mean it's easy, especially when an external circumstance seemingly causes a failure of some sort. Can't control the weather, right? Of course not, but you can still carry an umbrella.
What we're talking about is ownership and course correcting. Every person in every business does this (or doesn't) but I'm going to be talking from the point of view of tattooers since that's currently my area of expertise. So let's dive in a little, because I know some people are going to get wet.
The most common scapegoat tattooers have for when things go wrong is their clients. Wait, did I just say that? Did I accuse tattooers of BLAMING their CLIENTS for problems? Damn straight, I did. It's an ugly and pervasive line of thinking that poisons every corner of the industry. And before people think I'm on a soapbox, I'm guilty of this too.
We like to complain. We like to bitch about so many things, like people no showing, canceling last minute, rejecting designs, and the famous "they moved" when you're tattooing. There's a host of other issues, but I'm going to debunk all of these and show how it's your fault. But before you get butthurt, hear me out.
No shows and cancelations. We all hate it, and we hate sitting there with nothing to do because we got "screwed," right? How the hell can it be your fault if someone doesn't come in? Oh, you'd be surprised.
Let's start with what most of us do already, the 48 hour cancellation policy. You know the one, where I'd you don't give 48 hours notice, you forfeit your deposit? Yeah that. That's step one. Make sure you have that in place.
Part 2, which can greatly reduce the number of no shows and cancelations, is confirmations! Yes, the confirmation. I've heard some ludicrous opinions such as "it gives the client an opportunity to cancel." Well, yeah, but they already have that option. It's a friendly reminder and does two things. 1, it lets them know they have an appointment, and 2, should they cancel, gives you time to fill what would've been a no show. Make it clear in your policy that no response is considered a cancellation and a forfeit of deposit. I promise you'll get less no shows, and more confirmations.
The final step in this is to combat those last minute cancelations by having a call list. A what? A call list. A list of clients and potential clients who are able to come in on short notice. We should all have one of these. If you work strictly by appointment, there's zero excuse to not have a call list. As soon as you get a cancellation or no show, you can call these people and get someone in. Post it on social media. Get back to those half finished consults on instagram. The more people on that list, the more chance to fill that spot.
I know this doesn't account for every situation, and doesn't answer the final question of "what if you can't fill the spot?" The answer to that one is simple. HAVE BACKUP WORK. Don't act like tattooing is all you need to be working on. I promise if you've been reaching out to your call list, you're going to have people trying to book, so get on it.
Rejecting designs. Oh surely this isn't your fault. Well, yes and no. The absolute most common reason a client rejects a drawing is because we are not on the same page with them. While it can be difficult to communicate with some people, it's ultimately up to us to be able to gather what people want and how they want it.
This all comes down to our consultation process, our transparency with our own artistic process, and clarity regarding the type of work you are comfortable with. We have full control over those things, and being straightforward about how we do business is a key component to making sure our design matches or exceeds client expectations.
Another common reason drawings are rejected is because of our own ambition. We want to design big, lavish, tattoos, and sometimes we're just overshooting. We end up going with what WE want out of the design, instead of what THEY want. Now that's not to say we shouldn't be pushing for the best possible product, it means we shouldn't ignore what clients say when they talk about preferences. Again, this comes down to transparency with clients, about what will or won't work, and about which directions we suggest the design takes.
The less clarity between artist and client, the more chance a drawing will be rejected. If you can't find that clarity in advance, you'd do best to continue the consult process until you do. If the client is unable to express what they want, and you are unable to pull it out of them, there's no point in continuing a consult or doing a drawing. A "let me know when you have a better idea of what you'd like to do" may be best in that situation. OR you can go through the process of half a dozen drawings to figure out what they want. Your call.
The main point is that if you're honest about your process and thorough with your consults, you'll rarely, if ever, need to redraw anything. This is how we are to blame for the need to redraw designs.
"They moved." Well no shit they moved, they're a human being and you're literally wounding them. This is probably the most difficult thing to blame on ourselves because it seems so far out of our control, and, well, it is. That doesn't mean we can't take responsibility for our reaction, and our reaction TIME.
Clients moving is unavoidable to some degree. The occasional twitch, the little jerk when you hit a nerve just right. For the most part, we're accustomed to it, and we adjust while we work. But what about the person who keeps moving? The one who causes a jump in a line or that little bit of shading that goes past the border? There's a couple things we can do about it.
First, we can be better with damage control. My mentor always told me "it's not about not messing up, it's about being able to fix it before people notice." Kind of shady advice, I know, but it's true. We should be able to correct minor inconsistencies through use of shading, building up lines, and other methods. If we improve that skill set, we've adjusted to the moving client.
Another thing we can do is to simply improve our reaction time. It takes practice, but we should already be conscious of our client's minor shifts and movements. Prepare yourself for more than that. ASSUME people will move. If you maintain a readiness for a moving client, you'll be more able to 1) follow the movement while you work and 2) stop quickly when necessary.
We can also help mentally prepare our client. Letting them know when you're jumping spots or about to hit a tender area can be incredibly helpful. Give them a moment when you first put your hands down to tattoo so they can get themselves ready. Ask if they're ready. Ask how they're doing. Their preparedness can go a long way.
---
Now everyone can go ahead and get their "WELL, I NEVER" shit out of the way, because I know somebody just read this and felt attacked. Hell, I feel attacked. That's sort of the point though.
It's hard to take responsibility for things we don't feel responsible for, but responsibility means being prepared. Every time something goes wrong, we should be prepared for that exact possibility. Get stuck in the rain? Should've had an umbrella.
Don't take offense, take action. You don't have to get ready if you stay ready.