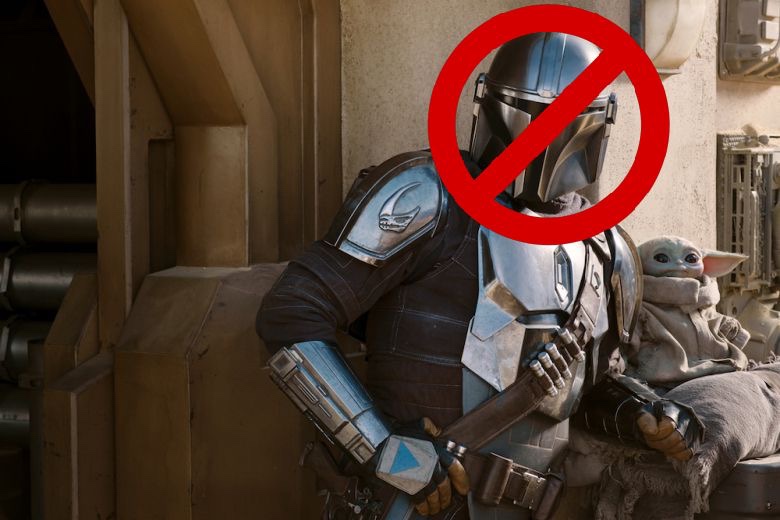 No, not the season premier of the Mandalorian, I mean mental health episodes. See, my entire day has been a mental health episode. From the moment I woke up until the time I'm writing this, and I'm sure until the time I lay down to sleep. Some days are like that. I can only hope that I don't wake up in the same mire.
Today was a battle on many fronts. And just like the Mandalorian, I battled alone. And yes, I understand the absolute cheesy corniness that was, so don't comment on it. I'm running on empty today, so the metaphors might be a little lacking.
Sometimes we have to deal with our bullshit at inopportune times. Actually, we ALWAYS have to deal with our bullshit at inopportune times. It definitely wasn't an opportune time to forget my meds the night before, or to sleep like shit, or to have adult responsibilities like parenting. All day long, I screamed inside and just wanted to run.
At first I needed solitude. I'm wildly introverted, and a lack of time alone to reflect, work, or just fuck around on my phone will eventually grind me into dust. Without solitude, my battery drains until it's dead, and then stays that way. Being alone is the only way to recharge and feel like I'm capable of existing.
Today there was no solitude. There was a lot of house cleaning, and small children singing, and costumes, and trick or treating, but no solitude. I was able to leave for about an hour to run to storage, but even that was hounded by an inability to relax. I wasn't home, I wasn't comfortable. I was on empty.
My thoughts ran the gamut today. There were so many times I wanted to just curl up and cry, and times I did. My sobriety came into question, my value as a father, my value as an artist. I would try to write, and then scribble out paragraphs. Zoned out, mindlessly scrolling through Instagram while my four year old son belted out "into the unknown" on repeat. There were stretches of time I hated humanity and hated myself. Times I realized how ridiculous and meaningless it all is, and then realized my critique of that absurdity was equally absurd and meaningless. It took every bit of strength in me to walk out the door, put on a good face for the neighbors, and take my kids trick or treating.
It's still proving difficult to get a grip and pull myself into coherent thought. Today I wanted to retire, and spend the rest of my time selling antiques and weird old shit. No bullshit, I wanted to just return deposits and tell people good luck with their tattoos. These are the crises I manage. These are the crises of being bipolar and ADD. Like I want to fall the fuck apart, but I have to do it in 15 directions because I can't stay focused enough to have a single linear breakdown.
My wife once told me that she hates the fact that she sometimes learns about shit I'm going through in blogs. Honestly I don't blame her, but in my defense, writing is easier than talking to someone. No need to express or explain myself in real time. Of course it's not all the time, but some of the time. Some of the time I can't formulate it and put it into words fast enough. It's hard to talk to people you love about the darker fragments of mind. And unfortunately the way my illness works, the struggles and episodes are shrouded in fog when I try to recall them. Forever unable to convey the atmosphere and mood.
It's not that an episode is necessarily depression. Sometimes it's just crippling awareness of humanity. Sometimes it's a period of understanding the vastness of existence and the infinitesimally small blip that is humanity. What keeps man sane is his habit of treating death as something far away, while the insane know it's at every turn.
I've been listening to a book about the stoics, and their philosophy makes a lot of sense to me. Very much like a western form of Buddhism. Their relation to death and meaning makes a lot of sense. My psychiatrist has told me that my relation to death and my occasional flirtations aren't healthy or normal. That the thought of checking out is not normal or healthy whatsoever, and we need to get rid of those thoughts. Then I think of this quote.
"Living is slavery if the freedom to die is lacking"

-Montaigne
Montaigne was a French philosopher in the 16th century, and a real fuckin influential one. The man is well respected for his work more than 450 years later. Falling right in with stoic philosophy, he believed that the among the choices men can make, the choice of when and how we die is incredibly important.
This isn't an argument for suicide, this is an argument for the normality of thought. If a quote like this is attributed to one of the most influential philosophers of the French renaissance, then why can't a normal fuckin dude like myself decide my own psychological relationship with our friend the reaper? I know that someone reading this understands exactly what I'm saying, and is probably relieved because of that. I know this can't just be some one off fluke that only exists in my head.
That's half the reason illness is so fucking awful: we feel alone. But god dammit, we're not alone, and every time you've had some fucked up thought, there's someone else having the same fucked up thought. I'm not fuckin crazy, and neither are you. My wiring is fucked up, and I understand that, but I'm not crazy.
And this is the kind of shit that's so god damn hard to talk to your loved ones about. I might not be crazy, but I know that how I think and feel is not normal. I wasn't born stock, I came out custom, and when the bass knocks, the trunk rattles.
This has been my Halloween. My mind racing between a million thoughts I just want to sort out in solitude but I can't. And I can't because this is my life, and no matter how insane I feel, I can't run from it. I've built this and this is mine, and it's up to me to work my way through it, just as it's up to you to work your way through yours. I've managed to make it to midnight without crumbling, even through that feeling you get when you forget your meds and it's like every time you turn your head it takes a second for your brain to catch up.
I don't need to feel normal, I think that might bore me. I just need time to sort it out when it starts pulling me under.