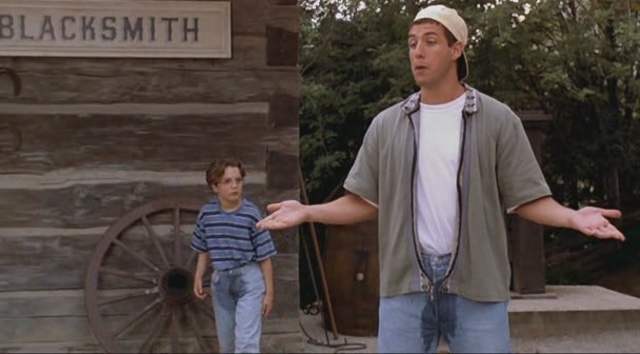 In 1985, I was a a first grade student at St. Mary's Catholic school in Salem, New Jersey. I had started partway into the year, having been homeschooled for about a year after my extended chicken pox absence from public kindergarten. My parents felt that catholic school provided a good education and, even though they weren't Protestants, keep the word of god in my schooling.
Being the new kid partway into a school year is extra tough. I remember having to fight another kid because I was new. I remember having knock off Chuck Taylor's on casual day and everyone singing "Bobos! They cost $1.99! Bobos! They make your feet feel fine!" You do what you can to fit in, but I was even more awkward when I was little than I am now, and that's saying a lot.
This place was about as Catholic as it got. Not every teacher was a nun, but enough of them were, and the principal was. My first grade teacher was a nun. Her name was Sister Carol. I remember one time she asked another boy to take some papers to the principal's office, and for me to accompany him. On our way out, he asked me to hold the papers so he could tie his shoe, and we were both ripped into the moment by Sister Carol's bony old nun hands pulling our hair violently upward, yelling "I told HIM to carry the papers, not you!" And she wasn't the worst.
I feared ever making it to third grade, whose teacher was not a nun, but an old lady with a fondness for the ruler. Everyone in school new she dealt out knuckle slappings in very liberal quantities. Luckily by the time it got to the end of second grade, I was able to talk my parents into letting me back into public school.
But I'm digressing from first grade, which is the point of this entry.
We did everything as a class. Lunch, recess, bathroom and fountain trips, everything. One particular day, I didn't need to use the bathroom, so I didn't. But I did partake heavily of the cold, metallic flavored fountain water. Our lessons continued and the day wore on, and a 6 year old's bladder is only so big.
I asked to use the bathroom. Sister Carol asked if I had gone when the class went and I told her no. She told me I should've taken that opportunity to use the bathroom, and I couldn't get up to go. I couldn't understand why I just couldn't go, I mean allowing a child to use the restroom is a lot easier than dealing with the consequences of denying them.
And those consequences were a ticking time bomb. Minutes wore on, my legs got antsy. I was tightening my muscles. Soon I was wiggling in my seat and tapping my feet. I started to sweat. Everyone else continued their schoolwork, oblivious to my struggle.
I fought it so fucking hard for what felt like an eternity. Eventually I just couldn't do it anymore. I sat in my seat and peed my pants. I was so terrified and upset, and I didn't know what to do. I didn't dare tell Sister Carol, because she was already mad I even asked to go to the bathroom. I couldn't tell anyone else, because kids are cruel, and I'd be laughed at and made fun of. So I just sat there and pretended nothing happened.
I honestly can't remember the course of the rest of the day, but I remember kids noticing. I remember people pointing and laughing. Nothing gets by kids, but it somehow slipped by every adult, and I went through the remainder the day with wet pants. It was embarrassing, and I was ashamed of myself.
The incident didn't stick too long in school, because there were weirder kids doing weirder shit, like that one kid who would blow his nose in his hat and then suck on it. But it did stick with me, and it became a metaphor for a lot of things in life. Even at 42 years old, it's an apt metaphor.
When circumstances in life are out of my control, I feel helpless and small. Of course I do my best to reel it all in and gain a handle on situations, but sometimes there's nothing I can do, and it inevitably crashes. Every time that happens, I'm that 6 year old who pissed his pants all over again, trying hard to maintain that everything is okay, all the while being mocked by those around me.
You can't always control the situation that caused all the piss. In fact, as an adult, you metaphorically piss yourself more than you ever literally did as a child. Instead, you have to look at those mishaps, mistakes, failures, fuck ups, or whatever else you want to call them as opportunities. You don't need to feel like you're being ridiculed or mocked, because as Adam Sandler taught us, "everybody my age pees their pants, it's the coolest!"
And if peeing your pants is cool, consider me Miles Davis.